COMING TO AMERICA

Robert Larkin, Sr. first came to America in 1913, leaving Liverpool on January 17th aboard the S.S. Hesperian. He arrived in Halifax, Nova Scotia, Canada, on January 25th. His final destination was Chicago. Sometime later, he became ill, and a doctor suggested that he return to Ireland, as the climate might be more conducive to his health.

At the age of 39, seeing that a negotiated settlement in Northern Ireland was impossible, he returned to America, sailing on the Aquitania, and arriving in New York on Tuesday, February 22nd, 1921. The Aquitania is pictured below...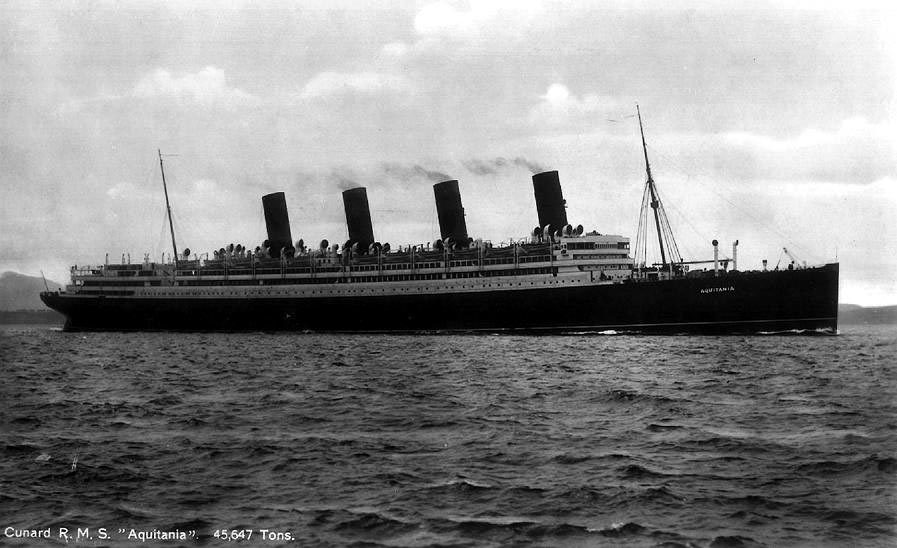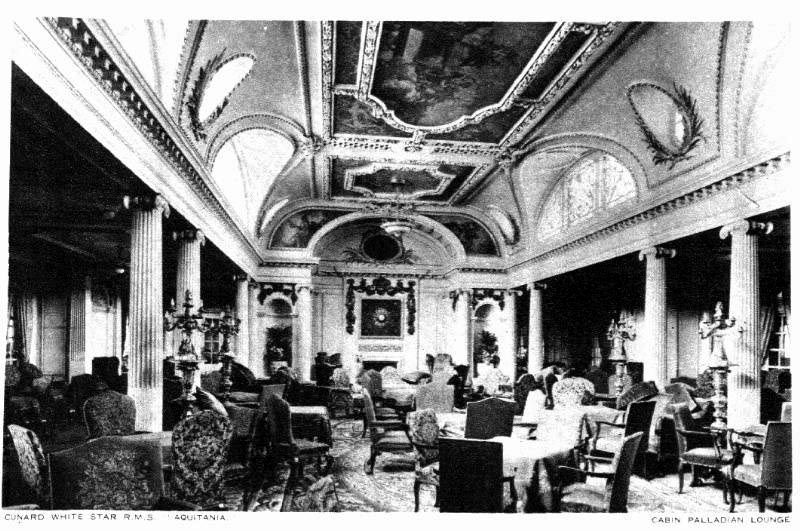 Two months later, on Sunday, April 24th, 1921, his wife Elizabeth(40), her Aunt Elizabeth Moore(55), and the children: Robert Jr.(14), Alfred(9), Rachel(19), Marion(5), and Gwendoline(2) arrived in America on the Coronia, seen below...
This postcard shows the Caronia docked at Liverpool, where Grandpa, his mom, his great-aunt, and his siblings would have boarded her.

Here's a great story about the crossing, told by Al Larkin to his son Ted...
"Dad was never bothered by motion sickness. On the voyage to America, it paid to have a cast-iron stomach! Dad told with great delight how he and Uncle Bob (Robert, Jr.) gained weight on the voyage from Liverpool to New York. Dad said so many passengers were seasick in their cabins that a lot of the prepared food in the ship's dining rooms went to waste. Grandma, Aunt Lizzie Moore and the girls were feeling poorly and hardly emerged from their cabin. Dad and his brother Bob had the run of the ship, and were invited by the dining room staff to eat as much as they wanted, free of charge! Dad said they ate hearty, several times a day! Before long, Uncle Bob figured out that the first-class dining room was wasting as much food as any other dining room on board, and he and Dad went up to sample the food prepared for the wealthiest passengers. Dad said the crew got such a kick out of watching Bob and him putting it away, that nobody made an issue of the fact that they did not have first-class tickets! Dad said that he and his brother dined in style for nearly the entire passage, and hardly saw another passenger!"

Al Larkin often told the story that he was separated from the rest of the family on Ellis Island for a special medical exam. Though he was cleared and allowed to join them later, he had at least two hours of being afraid of being sent back to Ireland all by himself! In that day, nobody at Ellis Island told children "why". They just told them "go there, sit down, and wait". Who knows what the medical issue was. Perhaps he had hay fever and his eyes were red.



No one came to meet the Larkins in New York, so they spent an anxious day finding their way from Manhattan to 604 Passaic Avenue in Kearny, New Jersey, where they finally connected with family friends who had the wrong day on their calendar for the Larkins' arrival.
Double-click on any of these links...