DELANEY FAMILY HISTORY
Edward P. Delaney was born on January 29, 1860 in Bridgeport, Connecticut. In the early 1880s, he married Alma Holland. Their only child, Harry Robert Delaney, was born on August 9th, 1884, probably in New York. The story passed down says that Alma died when Harry was 12, and that Harry left the family home not long after.
Edward remarried in 1916 at Carthage, New York, and moved with his new bride, Mary Udy Severance, to Watertown, New York. Mary had a daughter, Ethel May Severance. Edward worked in a paper mill, and also in numerous WPA projects. He died August 3, 1943, after a year-long illness. His obituary states that the whereabouts of his son, Harry, are unknown. It's apparent that Edward and Harry had no communication whatsoever.
The first available documentation of Harry's existence is a World War I draft registration card he filled out on September 12th, 1918, when he was 34-years-old. At the time, he was a boarder, living with Mary & Louis Van Buren, Vera's grandmother and uncle, in Helena, Montana. Also living with them are Joseph & Harriet Brent(Harriet was Mary's daughter) and their 8 children: Joseph, Eileen, Mable, Vanburen, Charles, Earl, George, & Clement. Harry lists his occupation as a self-employed farmer. He lists his next-of-kin as Edward P. Delaney of Watertown, New York.
Here's the draft card...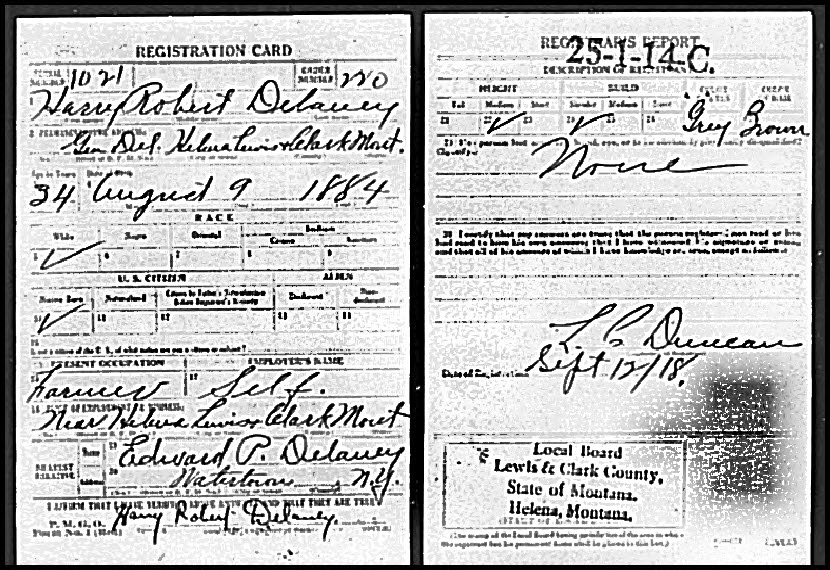 Harry next appears in the 1920 census, on January 20th of that year. He's still living with the Van Burens, at 1003 Breckenridge Street, just down the street from the Montana state capitol. He now lists his occupation as "miner".
Later in 1920, Harry lived in Palos Verdes, California. He received a postcard from Vera Francis Sunderland, letting him know that she'd accepted a teaching position in Wolf Creek, Montana.
Harry and Vera were married on Saturday, April 9th, 1921, at St. Aloysius Catholic Church in Los Angeles. Reverend F.H. Becker officiated, and the ceremony was witnessed by Vera's brother Ralph and sister Margene.
In 1930, Harry & Vera lived at 2009 Carlin Avenue in Compton, CA. They had 3 boys, Lou(5-years-old), and the twins, Jay & Jack(8-months-old). Harry worked as a mechanic in a garage.
Here are a number of photos of the family throughout the years...