WALSH FAMILY HISTORY

(Rita Larkin's mother's side of the family)
John Walsh was a native of County Kilkenny, Ireland(click HERE for a map of Ireland. Kilkenny is in the Southeast). John emigrated to America, and made the island of Manhattan his new home. He met Mary Caferty(b.1832), a native of County Monaghan, Ireland, and they were married on August 29th, 1852. They had eight children:
Catherine, born 7/22/1853
Richard, born 8/11/1855, died 9/22/1913
Patrick Henry, born 9/22/1857
Bridget, born 7/25/1859, died 7/20/1866
Michael, born 7/25/1859, died 7/24/1866
Thomas, born 9/22/1861, died 10/28/1866
Mary, born 2/22/1864
Margaret Ann, born 12/13/1866, died 3/27/1871
Four of the eight children died very young, almost certainly due to disease or epidemic. Bridget and Michael were twins, who died just 4 days apart in July of 1866, a few days shy of their 7th birthday.
The family lived at 801 Washington Street in Greenwich Village. Below is a photo of where the Washington Street house was located. In 1910, the houses at 799 and 801 were leveled, and the building pictured was erected. Today, it houses the post-production facilities for Goldcrest Productions, which has produced several major motion pictures, including "Chariots of Fire", "The Killing Fields", "A Room With a View", and more. If you use your imagination, it's not hard to replace the building with two houses, the paved streets with dirt roads, and the cars with horse-drawn carriages.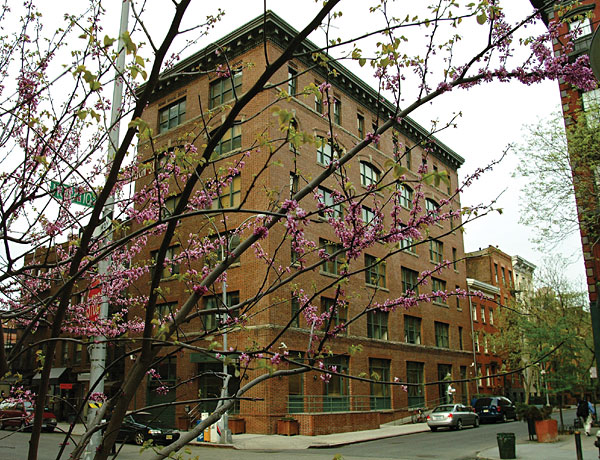 John Walsh passed away on January 25th, 1880(his death certificate could not be located by the New York Department of Records & Information Services). Mary and her four surviving children continued to reside at the family home on Washington Street. Richard and Patrick both worked as "coopers"(coopers made and repaired barrels and kegs). Mary was still in school.
Catherine, the oldest child, also continued to live at the house, along with her husband John Keenan, and their 5 children: Catherine(b.1873), Bernard(b.1874), John(b.1876), Patrick(b.1878), and Mary(b.1879). John Keenan also worked as a cooper.
The family attended mass at Holy Cross Church on West 42nd Street. The church was built in 1870. It still stands today, and is the oldest remaining building on 42nd Street.
Sometime around 1900, Mary sold the house, gathered her children around the dining room table, and divided the money among them. Then, she signed herself into a nursing home, where she lived out the rest of her days.
Richard, the oldest son, married Ellen(Ella) Leonard(b.1863) on November 28th, 1883, at St. Bernard's Church on West 14th Street in New York City. The church had been completed just 8 years earlier in 1875, and still stands today. Here are pictures of its exterior and interior...
Richard and Ella purchased a house at the southwest corner of Romaine Avenue & Pavonia in Jersey City. They had 6 children:
Miriam, born 8/29/1884, married John Joseph Quirk(b.1869) in June of 1908.
Mary, died at birth or shortly thereafter.
Richard Jr., born 1/3/1889
Julia, born 10/22/1890
Leonard, born 5/19/1893
Helen, born 6/27/1898