O LEONARD FAMILY HISTORY

Owen Leonard was born in Dublin, Ireland in 1831, and came
.William Owen Leonard(Rita Larkin's mother's mother's father) was born in 1827 in Dublin, Ireland, and came to America in 1840.
Julia Barry was born in Middleton, Ireland in 1833. She came to America in 1857, arriving in Boston with her sister, Margaret, who returned to Ireland. Julia crossed the Atlantic 19 times throughout her life to visit her sister. Click HERE to read two letters from Margaret Barry to her niece Ella, Julia's daughter.
William and Julia married in 1860.
In 1870, Owen worked as a bookkeeper for a store. Julia kept house, and cared for Michael(15), Lizzie(13), Ellen(12), & John(6).
In 1880, Owen clerked for an undertaker. Julia was a dressmaker. Lizzie(21) was at home. John(16) was attending college in Canada. The family lived at 37 Jane St. in NYC, just one street away from the corner of Washington and Horatio, where the Walsh family home was located. It's not surprising, therefore, that Richard Walsh and Ellen Leonard found each other and married in 1883. They lived at 313 W. 13th Street, spitting distance from Owen's office on Greenwich Avenue(pictured below).
In 1900, Owen & Julia lived at 130 Greenwich Ave, directly across the street from Jackson Square Park. Owen was an undertaker. Harry White, born in June of 1875 in NY, acted as assistant undertaker, and lodged with Owen & Julia.
Here's a photo of William Owen Leonard and his brother John standing outside of Owen's livery stable/undertaker's office at 130 Greenwich. Owen & Julia lived above the office...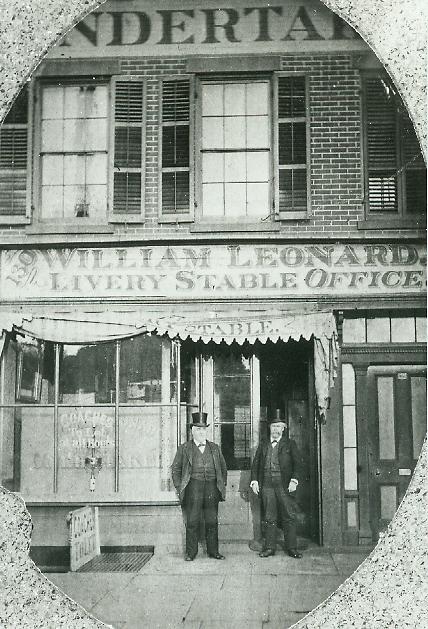 Close-up of William & John. By 1910, William had sold the business to the Delaney family(just a coincidence, folks, no relation!)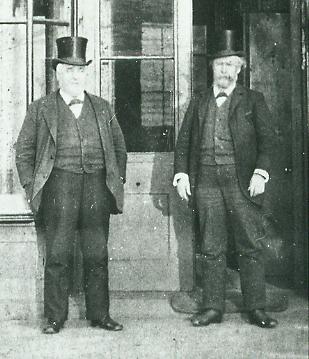 William Leonard is buried in Old Calvary cemetery in Queens.
Construction is under way of a building housing 34 luxury condominiums at the location where the livery stable once stood. It's to be called "One Jackson Square". Plans call for the developers to also spruce up Jackson Square Park, which currently is a concrete triangle with some trees, benches, and a fountain, and has become a gathering place for pigeons and the homeless. Here's an artists rendering of the building under construction...